Our Mission
We are a community where science and technology are celebrated and youth aspire to become science and technology leaders.
The mission of Saint Peter Robotics is to promote interest in and knowledge of science, engineering, and technology throughout Saint Peter and the surrounding communities; and to develop leadership, business, teamwork, communication and other life skills through the participation in robotics based activities.
We promote student involvement in science, engineering, computer, robotics, and technology.

We provide a safe, structured environment for students to meet and work directly with engineers, scientists, technologists, and advanced technology manufacturers.

We enable students to participate in team based robotics competitions such as: FIRST®, BEST®, IFI Vex Challenge®.

We provide hands on technology education to students, improving their ability to enter the workforce upon graduation, while promoting and encourage students to pursue higher education.
OUR TEAMS
It takes a village to raise a robot
FIRST LEGO League Jr. (FLL Jr.)
Grades K-4
Through exploratory research, hands-on construction, teamwork, and fun with LEGO elements, FLL Jr. challenges teams of up to six kids to explore a real-world scientific concept, then build a motorized model and develop a Show Me Poster to illustrate their journey of discovery.
FIRST LEGO League (FLL)
Grades 4-8
In FLL, children are immersed in real-world science and technology challenges. Teams design their own solution to a current scientific question or problem and build autonomous LEGO robots that perform a series of missions.
FIRST Tech Challenge (FTC)
Grades 7-12
FTC is designed for junior high and high-school students who want to compete head to head using a sports model. Teams of up to 10 students are responsible for designing, building, and programming their robots to compete on a 12 X 12' field in an alliance format against other teams.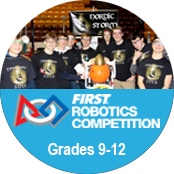 FIRST Robotics Competition (FRC)
Grades 9-12
FRC combines the excitement of sport with the rigors of science and technology. Teams of 25 students or more are challenged to build and program a robot to perform prescribed tasks against a field of competitors. It's as close to "real world" engineering as a student can get.
Help Support Saint Peter Area Robotics:
What can we help you with?