How to sign-up for a Saint Peter Area Robotics team
Complete the registration form: 2023-2024 Registration Form
Pay the registration fee. Payments are accepted online with credit/debit card via PayPal, or you can select Mail a Check. EARLY BIRD DISCOUNTS are available for fall teams if registered by August 31. For FRC, it is valid through December 15.
You will receive a confirmation email.
After completing the registration, you will soon receive additional updates from team coaches/mentors about the start of the season.
At the first team meeting, coaches, parents, and students finalize the practice schedule and expectations for the team.
Key information about each program we offer:
Please visit each program's page to learn more about it:
So, what exactly am I getting into if my child becomes involved in a robotics team?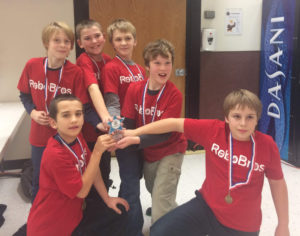 Joining a robotics team is a lot like having a child in youth sports or community groups.
There is a robotics season set by FIRST (the international umbrella organization for robotics).
There are set days and times that the team will meet for practices. See more about time commitment under each team below.
Teams develop and build robots that will be used to compete based around a theme or challenge created by FIRST each year.
Teams participate in one or more tournaments held in locations throughout the state or a neighboring state.
The amount of travel and length of the tournaments increases at the higher levels of robotics.
At the tournaments, teams can qualify to advance to the next level of competition based on performance.
Robotics is very much about cooperation and winning through helping others also be successful. If financial assistance is needed, Saint Peter Area Robotics has options for scholarships and can accept alternate payment schedules to make robotics accessible to you and your family. Please contact your coach/mentor if help is needed.